Kinder Scout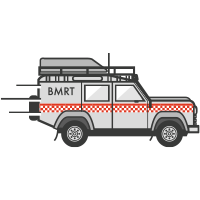 Call out for year:

05

Date:

6/01/17

Time:

5:10 pm

Grid ref:

SK 093 879

Type of incident:

Walker

Search benighted(2)

Team members involved:

22

Time taken:

6

Total man hours:

132
Incident report
Buxton Mountain Rescue Team called to assist in a search for two female walkers from Sheffileld stranded on Kinder Scout.
The walkers had been on Kinder since lunchtime, climbing Grindsbrook from Edale, with the intention of visiting Kinder Downfall.  It was whilst crossing the moor on the return journey that they got into difficulties.  One of the women lost a boot when she became stuck in thigh deep peat.  Escaping from that she continued with one foot protected only by a plastic bag.  Progress was slow and with the onset of darkness they they called for help.
Unfortunately they were unable to give their exact position and their mobile-phones developed flat batteries. Following the initial report to the police, a mountain rescue Incident Controller attempted to locate the pair using SARLOC software, but was not successful.  Consequently, the well practiced "Kinder Search Plan" was activated requiring four teams to be called out, each to search their own area of Kinder Scout.  Members from Buxton MRT, Glossop MRT, Kinder MRT and Edale MRT were called along with four Search Dog Association handlers.
Thankfully the pair were soon located safe and well by search dog Dolly from Kinder MRT.  After a quick check over and the arrival of a spare boot the pair were walked back down to Edale village by members of Edale and Buxton teams.