Kinder Scout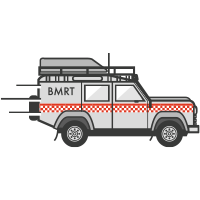 Call out for year:

60

Date:

25/09/14

Time:

3:00 pm

Grid ref:

SK 09 88

Type of incident:

Walker

Search lost (self report)(2)

Team members involved:

20

Time taken:

3.5 hours

Total man hours:

70
Incident report
Kinder and Buxton Mountain Rescue Teams called out when a man reported himself and partner lost on Kinder plateau.  The mid-afternoon call started when the man and woman from Lincolnshire phoned the police stating they had gone on to Kinder via Jacobs Ladder but had become disorientated in the thick low cloud and drizzle.   They were not in any immediate danger so initially just the two rescue teams were called together with two search dogs.
Whilst a direct mobile phone had been lost the police had been able to establish a rough area from which the call had been made placing the couple in the middle of the plateau near Crowden Head.
Buxton team responded, together with an Edale team search dog, and twenty members climbed on to the moor from different points on the Southern edge.  Kinder members and a search dog, climbed from Hayfield and then swept Easterly.  Following about an hour and half of searching in very poor visibility Kinder Search Dog Nick made contact with the couple who were cold and wet but unharmed.
They were escorted form the moor to a rescue vehicle waiting at Edale Cross.
Moral of this incident; a  traditional O.S. map and a compass are always reliable.