Grindsbrook, Edale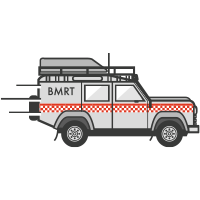 Call out for year:

36

Date:

15/06/17

Time:

1:40 pm

Grid ref:

SK 106 872

Type of incident:

Walker

Injured(1)

Team members involved:

18

Time taken:

3.5 hours

Total man hours:

63
Incident report
Buxton Mountain Rescue Team called at 1.40 pm on Thursday 15th June following a third party report to police of an injured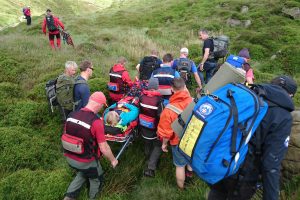 walker in the top of Crowden Brook in the Edale Valley.
Nineteen team members responded and a five were already climbing Crowden Brook from Upper Booth when another call was received reporting the casualty to actually be in Grindsbrook.   Incident control relocated to Edale Station car park and team members diverted to start climbing Grindsbrook Clough.   Knowing the casualty to be in the upper reaches of the valley Edale M.R.T. was also alerted and a further six rescuers including a Paramedic were deployed.
The casualty was a 23 year old female University student from the Canterbury area.  With her friend, she had caught the train to Edale for a days walking on Kinder Scout.   It was whilst negotiating some difficult boulder strewn ground in the upper reaches of the clough below Fox Holes she injured her ankle.  The slip left her unable to weight bear on her left side and she correctly cooled her ankle in the near by stream to help control the pain and swelling.
Upon arrival at scene team members diagnosed a possible fracture of the ankle.  The ankle was splinted and the casualty placed on a stretcher for the long carry off back down to Edale village.
The terrain in the upper Grindsbrook valley presented the rescuers with a challenging task.  The members of Buxton and Edale teams worked hard for over two hours in humid conditions to achieve the evacuation, culminating in a river crossing at the confluence of Grindsbrook and Golden Clough.
The casualty was handed over to the care of the waiting East Midlands Ambulance crew at around 5.00 p.m.
Photo credit: BMRT.   The start of a long and difficult descent. 
UPDATE,  message sent to Edale MRT:  "Hi, I'm the girl from yesterday.  I just wanted to say a massive thank you to everyone involved! I only had a bad sprain so thankfully no fracture.  Everyone was so lovely and made me feel a lot less nervous!  Many thanks and I just wanted to let you guys and the Buxton rescue team know how grateful I am! Thanks again."  S.