Long Hill, north west of Buxton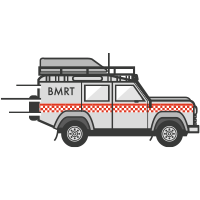 Call out for year:

79

Date:

25/08/19

Time:

2:43 pm

Grid ref:

SK 04500 74500

Type of incident:

Non mountain (Other)

Injured(1)

Team members involved:

17

Time taken:

2 hours 37 minutes

Total man hours:

45 hours
Incident report
A very busy day for the team today!
Some team members were fundraising on Sunday at our regular location in Castleton. A mid afternoon call out required them to leave their fundraising duties for a short time to attend a call out just to the north west of Buxton.
Several members of the drone team were also putting in additional voluntary time, in Wincle, south east of Macclesfield, making the most of the good weather to practice their drone skills. They too had to pack up their equipment quickly to attend the afternoon call out.
The team received a request from East Midlands Ambulance Service to assist them with a casualty.
The casualty had been riding their trail bike along a track and fallen off injuring their leg. The casualty was unable to walk. Due to the condition of the uneven track the ambulance wasn't able to get close enough to the casualty, and so the team was called to help.
On arrival at the location, team members assisted the ambulance crew in administering pain relief and splinting the trail bike riders leg.
The rider was then placed on a mountain rescue stretcher and carried down the trail for about 600 metres to the waiting ambulance. Following loading of the injured rider into the ambulance, the ambulance driver then had a 500 meter reverse down a narrow single track road to a turning area.
The casualty was then taken to a hospital in Stockport, whilst team members returned to their respective duties.
Sundays fund raisers before the call out

Drone training before the call out

Carrying off the injured trail bike rider to the ambulance