Woolpacks, Kinder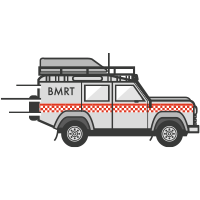 Call out for year:

10

Date:

5/03/11

Time:

7:00 pm

Grid ref:

SK 092 869

Type of incident:

Walker

Search lost (self report)(2)

Team members involved:

Time taken:

3.5 hrs

Total man hours:
Incident report
Three mountain rescue teams and search dogs were called to search for lost walkers on Kinder Scout on Saturday night. The teams from Buxton, Edale and Kinder deployed 60 personnel across the southern edges of the plateau.
The two walkers, both in their early twenties from Plymouth, Devon and Attleborough, Norfolk, were on holiday in the area. They had set off to walk part of the Pennine Way onto Kinder Scout and return to Edale. They became disorientated, were overtaken by darkness and called for assistance. Luckily, their mobile phone had a signal.
Search managers were able to speak to the couple and determined they were well equipped but had been wandering around Kinder for some time, uncertain of where they were. The weather was patchy mist and cold. Using local knowledge and experience, search managers prioritised the popular routes on the southern edges of Kinder Scout, and deployed rescue personnel and a search dog along them.
The missing walkers were located by a Buxton section at the Woolpacks. Following safety checks they were found to be fit and well and just needed escorting to their campsite at Edale.