Water-cum-Jolly, Cressbrook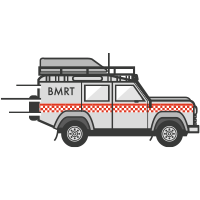 Call out for year:

46

Date:

24/09/09

Time:

8:18 pm

Grid ref:

SK 1667 7268

Type of incident:

Non mountain (Other)

Crag-fast(animal)

Team members involved:

15

Time taken:

1.5 hours

Total man hours:

23
Incident report
A regular Thursday evening training session on crag safe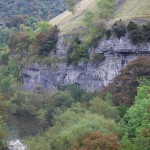 ty developed into a practical exercise when a call was received from a distressed dog owner in Cressbrook. 
A 2 year old Dalmatian had fallen from the top of Water-cum-Jolly landing on a rocky ledge some 20 metres above the River Wye.  Fifteen members escaped from the classroom to answer the call which involved lowering a team member armed with dog-biscuits to where the animal was stranded.  Collecting the dog in a makeshift harness the pair were then gently lowered another 20 metres to the ground to be reunited with the owner.  
Fortunately it was a clear night but darkness complicated the technical rope rescue which only an hour earlier had been a classroom training scenario. For narrative story see the News and article pages: Rescued dog, rescued by, rescue dog handler, 25.09.09.
Photo:  The steep limestone crags of Water-cum-Jolly in daylight!