The Roaches, Upper Hulme, Leek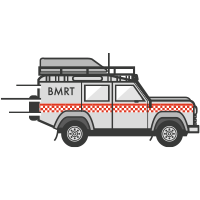 Call out for year:

24

Date:

27/04/17

Time:

12:50 pm

Grid ref:

SK 006 622

Type of incident:

Walker

Injured(1)

Team members involved:

15

Time taken:

2.5 hours

Total man hours:

37.5 hours
Incident report
Buxton Mountain Rescue Team called to The Roaches, a popular climbing outcrop on the Staffordshire moors,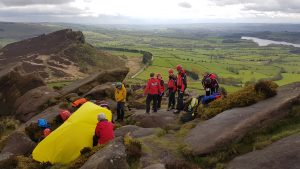 following a report on an injured youth on the upper tier.
Team members were still packing up from the previous incident when this call was received.  Fifteen members and two response vehicle travelled over to Staffordshire where they met youth group instructors who related the nature of the incident.
A 17 year old boy on an organised visit from a Newcastle collage had stumbled sustaining a painful dislocated-knee cap.  Team members climbed to the top of the crags to begin treatment after firstly erecting a tent to protect the casualty from the bitingly cold wind.  Team casualty-carers were later joined by staff from West Midlands Ambulance Service and various steps were taken to minimise the casualty's pain but finally the decision was made to evacuate him by aircraft.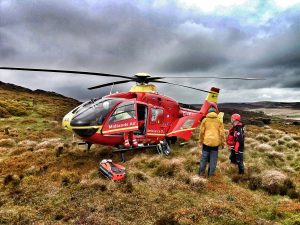 Team members prepared the casualty to provide a swift transfer when the hellimed arrived.  When the aircraft landed behind the crag and it wasn't long before the casualty was on his way to a Stoke hospital.
Photo credit: BMRT.  Top, casualty hidden in a tent to protect him from the weather whilst treatment was given.  Lower,  Midlands Air-ambulance waits for the casualty to be delivered by team members.