Ashford-in-the-Water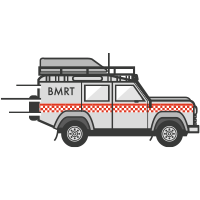 Call out for year:

02

Date:

4/01/09

Time:

12:04 pm

Grid ref:

SK 194 697

Type of incident:

Non mountain (Police)

Search vulnerable person(1)

Team members involved:

20

Time taken:

3 hours 30 minutes

Total man hours:

70
Incident report
Forty members of Edale and Buxton Mountain Rescue Teams, together with four search dogs were called in the early hours to the sleepy village of Ashford-in-the-Water, near Bakewell.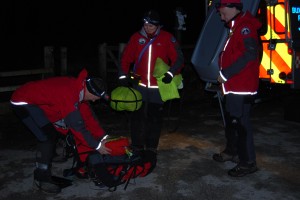 A bizarre scenario of events had started at 21.30 the previous evening when the police had stopped a vehicle on the A6.  Two hours later a man thought to be from the vehicle was seen in the village centre, wet through, and dressed in just his underwear.  The air temperature during the night dropped to below -3 degrees and the police asked for mountain rescue help to find the man who it was feared would soon succumb to hypothermia. 
The search continued until 07.00 hours when the man contacted a family member.  The man was picked up and and then treated by team medics before being taken to hospital by ambulance.   This was an unusual task for mountain rescue which only became involved because of the threat to life. 
Photo:  Members preparing for a night search.