Shining Tor, Cat & Fiddle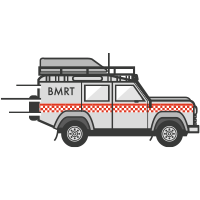 Call out for year:

71

Date:

1/10/17

Time:

5:12 pm

Grid ref:

SK 000 729

Type of incident:

Walker

Injured(1)

Team members involved:

23

Time taken:

1 hr - 15 mins

Total man hours:

28.75 hrs
Incident report
On a wet and windy day a member of a walking group from Nottingham suffered a suspected fractured ankle on the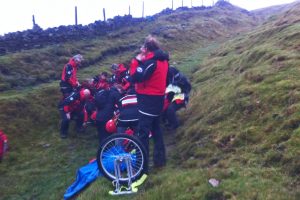 very last part of his day's walk.
The weather had been poor all day with significant rain and low cloud causing all the paths and tracks to become muddy.   The rambling group had been walking in the Goyt Valley and were just a kilometre from where their home-bound coach was waiting at The Cat & Fiddle when the accident occurred.  The 69 year old rambler was descending from Shining Tor towards Stake Farm when a simple slip on the steep footpath resulted in a painful experience.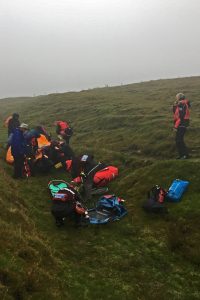 When the call for assistance was received from North West Ambulance Service several team members were already walking in the area and were soon on scene to help the injured man.   Support and equipment was also quickly on its way from both the team's bases in Buxton and Dove Holes and it wasn't long before the man received pain relief and had had his leg splinted ready for the short carry back to Stake Farm.  At he farm an ambulance was waiting too take the casualty to Macclesfield Hospital.
The team extends its grateful thanks to the owners of Stake Farm for their help and cooperation with permitting vehicle access to the farm yard.
Photo credit: BMRT.   
The casualty is quickly placed in a box tent to protect him from the elements whilst medical treatment can be carried out.  Following pain relief and splinting of the injured limb the casualty is placed in a warm and supportive bag ready for the carry-off.  At the same time the stretcher is prepared and a single wheel fitted underneath to aid the evacuation.