Kinder Scout, Southern Edge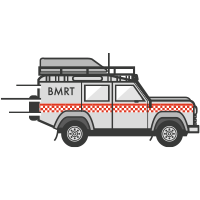 Call out for year:

75

Date:

24/11/08

Time:

8:26 am

Grid ref:

SK096 866

Type of incident:

Walker

Search benighted(3)

Team members involved:

25

Time taken:

3 hours, 45 minutes

Total man hours:

93.75
Incident report
The team was called at 17.40 for another early evening search for an overdue party lost on Kinder Scout.  Three teams, four search dogs and a police helicopter were called out when a party of three adults became disorientated in mist and darkness on a walk over Kinder.
The party, two males and one female set off from Bowden Bridge, Hayfield at 12.30 pm for a walk along the eastern edge but under-estimated the conditions and the time required.  As darkness fell, and without any torches to read the map by, the party started to walk in completely the wrong direction.   Fortunately they werte in an area of Kinder which has a mobile phone signal and a call alerted the police at 17.10.  Buxton, Kinder and Edale rescue teams were called to start a search.  The well practiced Kinder Search Plan was used but it was the Derbyshire police helicopter, using heat seeking equipment, that located the group at 18.45 and was able to guide ground searchers into the site. The party was then assisted to Edale before being transported back to their car at Hayfield.
Learning points – good: The group called for assistance before the situation got worse.  Having called for assistance they stayed in one place and did not wander about.  The party had whistles.
Learning points – bad:  Need to be realistic about timing when planning a route.  Set off early.  All party members should carry a torch and emergency food and clothing.