Kinder Scout, Southern Edges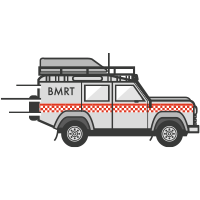 Call out for year:

5

Date:

3/02/12

Time:

6:35 pm

Grid ref:

SK 094 873

Type of incident:

Walker

Search benighted(2)

Team members involved:

15

Time taken:

1.5 hrs

Total man hours:

22.5 hrs
Incident report
A joint snatch squad of Buxton and Edale Mountina Rescue teams, together with 4 search dogs, responded to a call-out for two walkers stranded by an icy waterfall on the plateau.
The missing walkers were a male aged 26, and a lady, aged 35, both from Dronfield near Chesterfield. Both were equipped for a days walking, carried a rucksack and a map. Although neither were injured, it was dark, very cold and the fact that they had fallen on ice into water attempting to descend Crowden Brook created concern about their welfare.
Rescue units were deployed from Jacobs Ladder to Golden Clough. The South Yorkshire Police helicopter was available and requested to fly over the area. The missing walkers heard the aircraft and set fire to their map to attract the aircrews attention: this worked. The aircraft landed on and picked up the pair near to Crowden Brook. The helicopter flew them to Sheffield, where they were met by ambulance service paramedics, checked over, and released.