Chee Tor, Chee Dale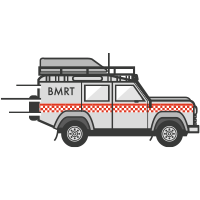 Call out for year:

20

Date:

9/05/09

Time:

1:40 pm

Grid ref:

SK 122 733

Type of incident:

Climber

Injured(1)

Team members involved:

18

Time taken:

3 hours

Total man hours:

54
Incident report
A three hour epic rescue started with two separate 999 calls to po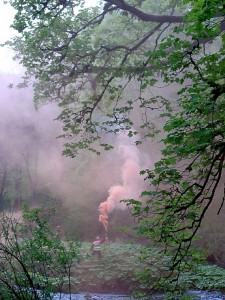 lice and ambulance services reporting that a climber had fallen 15 metres from Chee Tor into the river Wye in Chee Dale.   An ambulance, a paramedic car, Debyshire, Leicestershire & Rutland Air-ambulance and a crew from Buxton Fire & Rescue Service were all called together with Buxton Mountain Rescue team.
The local knowledge of the mountain rescue team proved vital in quickly assessing the best access route into the remote and very steep sided valley. All resources were soon concentrated on an approach from Wormhill.  The casualty, a 26 year old male from Sheffield, had suffered back injuries and an initial assessment dictated that a vertical lift by helicopter would be the best mode of evacuation.  An RAF Seaking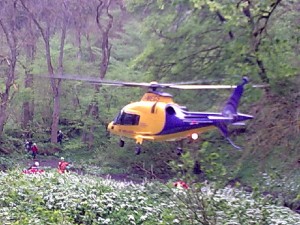 helicopter with winching capability was requested and was soon on route from RAF Valley on Anglesey; flying time about 50 minutes.   Whilst waiting for the RAF the casualty was treated by air-ambulance and rescue team doctors and he was soon on a stretcher ready for lift out. 
The arrival of a Seaking helicopter normally signals a quick evacuation but after several practice approaches the RAF pilot declared the situation too dangerous for the large aircraft to perform a direct lift out from the narrow wooded valley.  Rising to the challenge the air-ambulance crew decided to make a second attempt with the aim of landing on a small island in the middle of the river.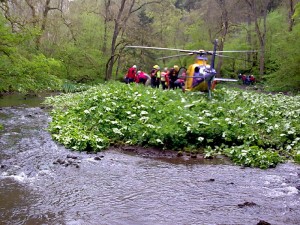 Whilst the aerial tactics were being reconsidered the Fire & Rescue Service devised a back-up plan to use an inflatable raft to float the casualty across the river.  The raft was sent for from Buxton fire station and a second appliance crew from Chapel en le Frith was also dispatched to Wormhill. 
However, with a stunning display of skill the air-ambulance pilot manouvered his aircraft carefully down the valley and finally landed on the island.   Rescue team members were able to quickly load the casualty into the helicopter but fate attempted to deal one last blow when the aircraft wheel began to sink in soft ground preventing take-off.  Some fast digging by firemen soon freed the wheel and finally the casualty was on his way to Sheffield's Northern General Hospital some three hours after the incident had occurred.
This was a multi agency rescue with five emergency services working together and included three crews from Derbyshire Fire & Rescue Service, an East Midlands Ambulance and an East Midlands paramedic car, the four man crew of an RAF Seaking Search & Rescue helicopter, three crew from the Derbyshire, Leicestershire & Rutland Air-ambulance based at East Midlands Airport and eighteen members of Buxton Mountain Rescue team.
There is no update yet available on the condition of the casualty.
Photos:  1. Rescue team members use smoke flares to indicate the wind conditions in the valley.   2. The air-ambulance carefully negotiates the narrow wooded valley.   3. Finally, on the island where the casualty can be loaded