Castle Naze, Combs Moss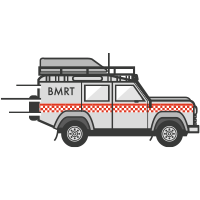 Call out for year:

51

Date:

13/08/17

Time:

2:05 pm

Grid ref:

SK 052 784

Type of incident:

Climber

Medical(1)

Team members involved:

17

Time taken:

2 hours

Total man hours:

34
Incident report
Buxton Mountain Rescue Team was called out at 2.00 p.m. on Sunday afternoon (13th August) following a report of a rock-climber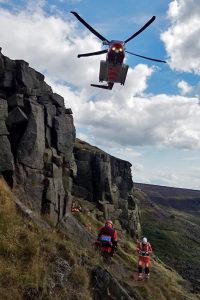 having collapsed with chest pains at the foot of Castle Naze Crag.
The first team members arrived at the roadside simultaneously with an East Midlands Ambulance crew and all quickly climbed to the incident site.   A mature rock-climber from the Alsager area was showing signs of a heart problem but was being cared for by a party of walkers from Austria.  Fortunately, the team had a German speaking member on scene, so communication was not a major issue.  Other climbers were also offering their help.
Owing to the seriousness of the casualty's condition a Coastguard Rescue helicopter was called together with a special heart massaging machine held on behalf of the Peak District M.R.O. by Edale M.R.T.   In the meantime team medical members and the E.M.A.S. ambulance crew continued to treat the patient until the arrival of a doctor.
Within forty minutes the rescue aircraft was overhead and the prepared casualty was winched up into the helicopter for the fast and comfortable transfer to Sheffield Norther General Hospital.
Photo credit: BMRT.   The Coastguard S92 Helicopter hovers over the casualty site before winching up the stretcher.