Castle Naze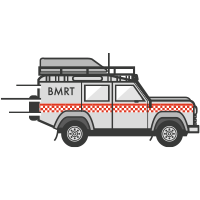 Call out for year:

65

Date:

15/10/08

Time:

7:10 pm

Grid ref:

SK053 784

Type of incident:

Climber

Injured(1)

Team members involved:

20

Time taken:

2 hours, 30 minutes

Total man hours:

50
Incident report
Buxton team was called to assist a 20 year male from Bury St Edmunds, Suffolk currently a student at Manchester University. He had been leading a route called "Scoop Face Direct". He came off and pendulumed on his runner protection, falling about 6 metres and hitting a small ledge. His belay failed again dropping him a further 3 metres to land at the base of the cliff. He sustained injuries to his neck and lower back, and was mildly hypothermic. This incident had occurred sometime earlier and due to the lack of a mobile phone signal at the incident site, his climbing partner ran to a local farm to call for assistance.
He was treated on site by ambulance service paramedics and team members, given pain relief and splinted on a spinal board because of his location and the difficult access against the rock face.
Due to the potentially serious nature of his injuries an RAF Sea King helicopter was requested; this arrived from RAF Valley, North Wales. The aircraft managed to land on above the crag in the dark. The casualty was evacuated uphill, partly hand over hand, to the waiting helicopter. Members from Kinder team who were called to back us up were involved in the evacuation. He was then transferred to the Chesterfield Royal Hospital for further treatment. A follow-up indicated that the casualty had been extremely fortunate and had not sustained any serious injuries, however team policy is to always assume the worst case scenario on site until proven otherwise.