Edale Cross area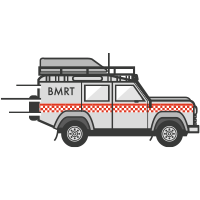 Call out for year:

55

Date:

10/09/11

Time:

9:00 pm

Grid ref:

SK075 862

Type of incident:

Walker

Other(1)

Team members involved:

14

Time taken:

Total man hours:
Incident report
As a previous incident was concluding, the snatch squad of Buxton and Edale Mountain Rescue Teams were tasked with a further incident near Edale Cross.
A 66 year old male walker from Bournemouth, Dorset, had collapsed with exhaustion. Team sections were re-deployed via Jacobs Ladder to Edale Cross. We were joined by Kinder Mountain Rescue Team colleagues, who had driven up from Hayfield.
Together, the casualty was treated on site by team medics. The man was very wet, cold, tired, and mildy hypothermic. Team members carried him by stretcher to the Kinder Team vehicle, and he was driven to the Kinder Team base at Hayfield. His condition on arrival in Hayfield had improved greatly. He was given tea and food and then taken to his accommodation.