Zack passes over but continues to raise money
Zack was a Springer Spaniel and the beloved pet of one of our team members.  He wasn't a rescue dog, more of a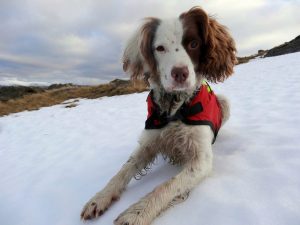 rescued dog who just loved to be on mountains.  Sadly Zack was put to sleep on Sunday aged 12 due to kidney failure.
He was neglected for the first two years of his life and became scared of everything especially men.  When rescued it was socialising with the team members that gave him back his confidence and he went on to live a very fulfilled life climbing many mountains throughout the Country.
Zack was a often around the team base and quickly became a popular friend with all our visitors.  Always full of energy he became a pet of every team member and was often out with us on social and fundraising events.  Zack was also regularly seen on Twitter and within two hours of his death being announced donations of nearly £100 had been made to the team in his memory.  The figure quickly rose to over £300 and money keeps coming in.
Thank you Zack for all the pleasure you gave us and for helping to raise so much money during life and after death.  You won't be forgotten.
For more details check out Twitter  @JakeZackAndy  or to make a donation in his memory go to Just Giving and find the Buxton Mountain Rescue Team page.