Twirling Batons for Mountain Rescue
Following a phone call from Bill Weston MBE, the leader and founder of the Billerettes , one of the Buxton Mountain Rescue Team's Deputy Leaders attended the Dickensian Christmas Market at the Pavillion Gardens in Buxton on Saturday 25th November to receive a "small cheque". To his astonishment the cheque was made out for the princely sum of £700! Derbyshire Cave Rescue were also awarded £700.
The team would like to express its heartfelt thanks to Bill Weston and the Billeretes for such a generous donation. Our thanks also to the generous public of the High Peak for both enjoying and supporting the Billeretes.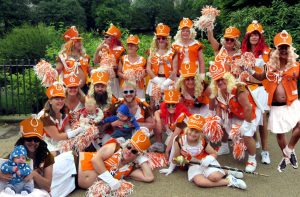 The donation will go towards the Buxton team's project for using drones in Search and Rescue to supplement humans and search dogs. Learn more about this initiative and donate here.