Training for the worst.
So far the winter conditions prevailing over the country hav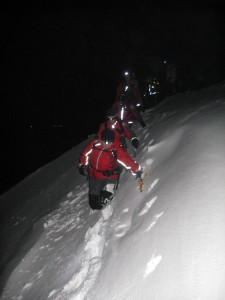 e not caused any serious problem for the team, with no callouts directly related to the snow.   But the team can't be complacent and has used the unusual conditions to enhance the skills of its individual members.  Training in personal safety skills was covered in the classroom before being practiced on the hills.  A party then spent a weekend in the Lake District to further practice snow and ice techniques which proved essential as the members went to the aid of Patterdale team dealing with an incident on Striding Edge.  But it's not just personal skills that need to be refined.  The team members have to be able to work well together in any conditions so training moved from the warmth of the classroom to the dark and wind swept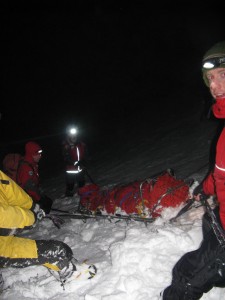 ridges of Mam Tor.   Lowering a stretcher on steep ground always calls for concentration, but add darkness, cold hands and icy ground then each and every member has to work together as a single unit if an accident is to be avoided.   The team is fortunate enough to have several professional mountaineering instructors in its number so there is always a keen emphasis on safety, as well as sound technical knowledge available.  Practice for the worst scenario and the real call should run like clockwork.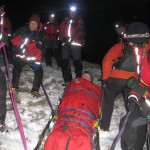 Photos:  Moving safely on steep snow.   Start of a stretcher lower.     Sledging a stretcher, the quickest way to make progress.     Mock casualty all wrapped up in a special bag costing nearly £1,000.                                          Photos courtesy of Peter Parker,  Moorland Adventure.