The Funeral of Ian Hurst M.B.E, J.P.
The funeral of Ian Hurst M.B.E., J.P. took place at 2.30 p.m. on Thursday 6th April at Christ's Church, Burbage,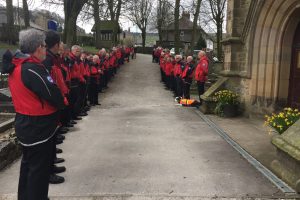 Buxton.
It was a cold and blustery day but nearly one hundred fellow mountain rescuers from teams across the Peak District lined the churchyard to pay tribute to a man who was Buxton Team's President and who had voluntarily served the community for over fifty years.
Ian was a stalwart member mountain rescue from the early 1960s, a Justice of the Peace since 1986 and a Peak District National Park Ranger for nearly forty years. He was a great family man and leaves a wife of 52 years marriage, three grown up children and nine beautiful grandchildren.  He was only thirteen days short of his 74th birthday and missed seeing his ninth grandchild by just five days.   
He will be sadly missed by friends and colleagues from across so many different areas of the community.
Fellow team members carried Ian into the church packed with family, friends, old work colleagues and mountain rescuers alike.  The poignant and most appropriate service was performed by the Parish of Buxton Curate, Margaret Slyfield with a eulogy spoken by an old friend and team member, Roger Bennett.  Following the service, rescue team members carried Ian to the graveside where a short internment service took place.  Family and friends later met at the Cavendish Golf Club to share memories.
Zan, Ian's family and Buxton Mountain Rescue Team wish to thank everyone who attended the service to pay Ian such respect and to those who had sent their thoughts and condolences.
Team member Roger Bennett said, "He will be forever remembered by all who knew him.  He was the sort of man that can never be replaced."
Photo credit:  BMRT.   Nearly a hundred rescue colleagues wait for Ian to arrive.