Thanks for the ride.
Buxton Mountain Rescue Team welcomed Hassan Pillai from Macclesfield to its Dove Holes base on Thursday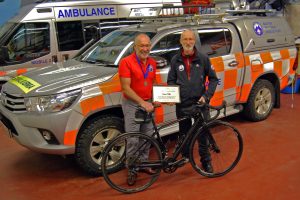 evening to say thank you for raising over £3,000 for team funds.  
Team Chairman, Richard Doran, presented Hassan with a framed Certificate of Appreciation in recognition of his hard work and determination in completing a 650 mile cycle ride from Mizen Head, the tip of Southern Ireland, to Malin Head at the top of Northern Ireland.   Following the presentation Hassan went on to relate the some of the stories surrounding his trip to team members.
Hassan first became connected to the team following a misadventure on Kinder Scout in March 2014 and always wanted to do something to repay for calling the team out on a foggy night.  He has certainly done that and his magnificent £3,000 sponsorship money will be put aside ready to help finance the purchase of new radios later in the year when a forced change of frequency will involve a big expenditure. 
The team said Thank you to Hassan on the night but also wants to say a huge "Thanks" to all who supported his efforts.
Photo credit: BMRT.   Team Chairman, Richard Doran, presents Hassan with a Certificate of Appreciation.