TESCO. Every little helps!
More than just a little; in fact a very respectful £660.  On Saturda

y 21st March Tesco Supermarket at Whaley Bridge challenged the team to raise as much money as it could with a door collection.  The invitation was part of Tesco's Challenge scheme which invited divisions of St John Ambulance to collect at their stores.  Buxton Mountain Rescue Team, a division of St John since 1975, was pleased to accept the challenge and found the shoppers of Whaley Bridge to be very generous.  In just a few hours over £660 was collected in buckets which will go towards the £30,000 needed each year to keep the team operational.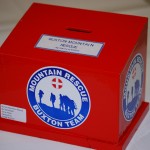 Many thanks to Tesco's for its invitation and their support of chariatble organisations.   But a very big and special thanks to all those who contributed to make the collection so successful and for the many words of encouragement our members received.  Standing with collection tin is not the favorite pass-time for team members but the results made it a very worthwhile event.  Thank -you all.