Team Members tie the knot
This was not your simple bowline, this was the full marriage hitch.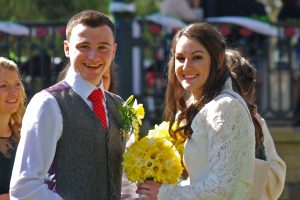 Good news at last for the team when members Tom Bradshaw and Charlie Arnold married on Saturday in the Pavilion Gardens, Buxton.  It was a beautiful spring day for the service which took place under the band-stand in the gardens.  Team member Josh Hall was Best Man so it was truly a team event.
Tom was already a team member when Charlie joined and romance soon blossomed.  Following the service there was a reception at Hathersage Memorial Hall which was followed later with an evening do starting with a ceilidh band.
Congratulations to the happy couple and best wishes for a long and happy marriage.
Black mark though;  you both missed Saturday's callouts!