Team Member in Lakes Drama
At lunchtime on Sunday 16th November team member, Nick Weston, was climbing on Lower Scout Crag in Great Langdale, Lake District National Park, when he heard screams from a nearby route.  A 22 year old woman had fallen 5 metres from the crag and had struck the ground, fracturing a femur.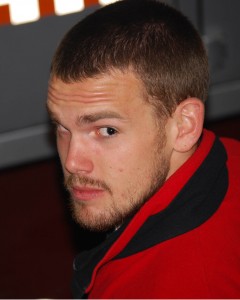 Nick immediately went to her aid, now wishing he had taken more notice of his MRC Casualty Care Course.  Her screams meant her Airway was clear, her continued screams meant that she was having no trouble Breathing and the quickly expanding thigh showed that most of her Circulation was pooling round an obviously fractured femur.  She was certainly reacting to pain so no problem on the Disability front and luckily Exposure is automatic on Nick's camera.  There was no lack of F either.
Assistance was summoned but there was a delay in the arrival of an RAF helicopter which was already dealing with another incident elsewhere in the Cumbrian hills.  Without the backup of the team first aid kit and pain-relieving gases there was little Nick could do but check for other injuries and reassure the woman.  After what seemed like hours, but was really only minutes, members of Langdale Ambleside MRT arrived bearing all the necessary kit and expertise.  After treatment and splinting, the woman was airlifted to Furness General Hospital.
Moral: (1) You never know when team training will come into use.  (2) Always carry a bottle of oxygen and a bottle of Entonox in your rucksack!!