Team cashes in on stolen goods
They say crime doesn't pay but on Monday 19th January Buxton Moutain Rescue benefited by £620 from local criminal activities.   Each year Der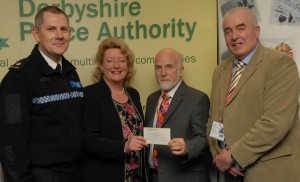 byshire Constabulary distributes to charity the proceeds from the sale of property confiscated by court order.   This year the sum totalled £3,724 which was shared between ten worthy causes in the Buxton and Chesterfield police divisional areas.
At Derbyshire Police headquarters at Ripley, Carole Brister, Vice Chair Derbyshire Police Authority and Buxton Division Deputy Commander, Superintendent Paul Rouse, presented Ian Hurst (Team Chairperson) and Malc Needham (Deputy Team Leader) with the cheque.   The team members thanked the Police Authority for its consideration and explained how the money is likely to be spent in support of providing the rescue service.
Ironically the sum will slightly exceed the insurance excess the team will have to pay for repairs to the walls of its base at Dove Holes.  The damage resulted from two youths ramming a stolen car into the building one night last summer.   The repairs have just been completed and cost over £5,000.
Photo: Surveilance cameras catch stolen goods changing hands.