Supporting the community that supports the Team
Long school holidays and wet summer days equals bored kids!   S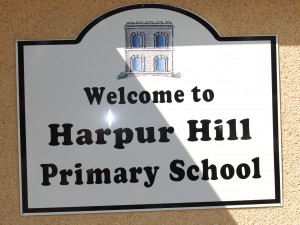 olution – summer clubs.
When the team was approached to help at a local Buxton primary school, it was an opportunity for us to get the hill safety message across to a very young audience.  Four team members, including Search Dog Cap, visited Harpur Hill Primary School one morning last week.  Local mums had started a summer club to occupy and educate their children who would otherwise be watching television at home.
The youngsters were familiar with Police, Fire and Ambula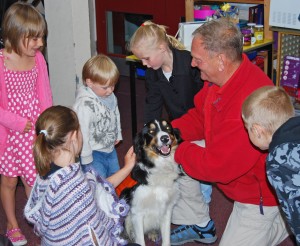 nce services but had little knowledge of what mountain rescue was about.  The children were reminded how to make 999 emergency calls, and introduced to what mountain rescue teams do.  There were some interesting questions from the small group which already had some basic first aid skills learnt in Cubs and Brownies.
In a short practical exercise, the children were able to carry a mountain rescue stretcher – but it was really a demonstration by Cap which held everyone's attention.
Search & Rescue dog handler, Malc Bowyer, put Cap through his paces to demonstrate how dogs find casaulties by picking up human scent.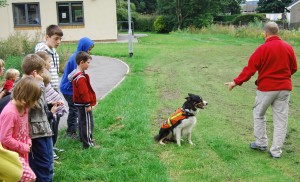 The team tried hard to loose some of the kids – but Cap was one step ahead, and by the end of the day all the children were accounted for!
Photos:  Search Dog Cap is star of the show and laps up the attention.  
 Time for work: two missing children to be found!