Round Table donation with a bang
Saturday 6th November was Community Bonfire Night in Whaley Bridge, an event organised by the Goyt Valley Round Table.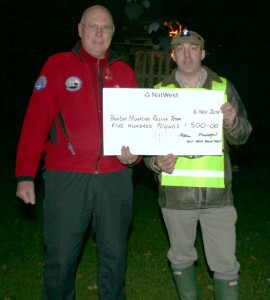 It was a busy night as the Round Table arrange all the fireworks, the bonfire and the edible goodies.  The Round Table also used the event as an opportunity to present donations to their chosen charites.
The Round Tablers have been working hard all year to raise money to support a wide variety of charities.
This year Buxton Mountain Rescue Team was one of the lucky charities to be nominated as a recipient and team member, Joe Rees, went along to collect a cheque for £500.
£500 is a magnificent donation which will be added to the steadily growing pot of money ear-marked for new clothing and equipment for operational members. The team sends a huge thank you to the members of the Goyt Valley Round Table for all the effort they put into raising money for lots of different worthy causes. And thanks for not confusing Joe with Guy!