Reward for 100 hours of voluntary work
With £500 and over 100 hours of voluntary work, it's a double bonus for the team having a keen member who works for Lloyds Bank . 
The Lloyds TSB Foundation for England & Wales is o

ne of UKs leading independent grant making trusts and has supported the rescue team on several previous occasions.
The Lloyds TSB Trust is a registered charity and an independent foundation.  The covenanted income comes from the 1% of pre-tax profits that the four Foundations receive from Lloyds Banking Group (formerly Lloyds TSB Group) averaged over three years. The four Foundations covering England and Wales, Scotland, Northern Ireland and the Channel Islands have received more than £165 million over the last five years.
The TSB Foundation has established a "Matched Giving Scheme" to encourage staff members of the Lloyds TSB Banking Group to get involved with the voluntary sector and give their support to a UK charity.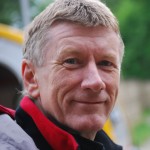 The donation of £500 results from the time Lloyds employee, Terry Doyle, has spent working with the team as an operational member and as Logistics Officer.  To qualify Terry had to volunteer at least 100 hours for the team within the year which, with his responsibilities for looking after all the team equipment, attending Trustee meetings and being a regular call-out member, he easily exceeded. 
Thanks to Terry for his work and thanks to the Lloyds TSB Foundation for a fantastic donation.
Photo:  Logistics Officer, Terry Doyle