Rescuers Remember 1964 Four Inns Tragedy
2014 sees Buxton Mountain Rescue Team and the regional organisation, The Peak District Mountain Rescue Organisation, celebrating 50 years of life saving work throughout the Peak District.
Many of those involved in modern day rescue will be remembering the events 50 years ago as this year's Four Inns endurance walk sets off at weekend.  Saturday 5th April will see about 300 walkers attempting The Four Inns, a tough competitive walk in the Peak District over some of the roughest moorland in Britain. The walk takes its name from the four inns along its route – The Isle Of Skye (site of), Snake Pass Inn, Nags Head and Cat & Fiddle.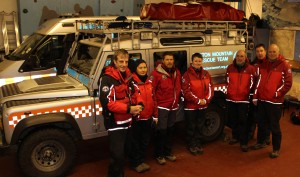 First attempted in 1957 but it was the events of 1964 that mountain rescuers will be remembering this weekend.  Fifty years ago the weather deteriorated throughout the day and three young lives were lost as local rescuers searched for the missing young men in appalling weather conditions.
That dreadful day came only a short while after the death (in December 1962) of two children from Glossop, missing on the local hills and two young climbers' deaths in an avalanche in Wilderness Gully in the Chew Valley, Greenfield early in 1963.
Seven young lives lost in a little over a year was the tragic catalyst in the formation of the Peak District Mountain Rescue Organisation and the birth of Buxton Mountain Rescue Team.
To mark and respect the tragedy in 1964, three small groups of team members will attempt this year's challenge.   One group  are members all over 60 and call themselves the "Oldens"; although they do have another nickname!   One group of "lasses" and one group of "youngens".  They have all carried out a number of practise walks in recent weeks preparing for the ardous event. Team member Joe Rees said: "We are taking this event seriously, it will be strenuous and hard work, but we are doing this in memory of the scouts who perished and to mark Buxton Mountain Rescue Teams formation some 50 years ago".  Joe added: "If the public would like to support our Golden Anniversary appeal to replace our ageing control vehicle, "£50.000 for 50 Years Service" that would be wonderful".  Joe has already raised over £500 in pledges!
As the three Buxton teams set off in the early hours of Saturday, other rescue team members will be providing support along the way. You can follow their progress along the route via our website, as each will be carrying GPS trackers.  (just in case we have to go and find them!)
To help sponsor our members, hit the "Support Us" button on the home page or, alternativeley, you can send a cheque made payable to Buxton Mountain Rescue Team to 8a, Hallsteads, Dove Holes, Buxton, Derbyshire, SK17 8BJ
WE  REMEMBER  YOU
Come all you scouts that roam the tops and hear what I do say.
Come all you Manchester rambling lads that roam the Pennine Way.
Come all you brave mountain climbing lads that scale the gritstone crags,
and I'll tell of a snowstorm on Kinder Scout that killed three rover lads.
For the moorlands are a wicked place from the Peak to Blealow Hill.
And the Moss and clough will fool you and the weather change its will.
It's a lovely land in the springtime but beware if you should climb,
for the moorland mists will catch you unprepared at any time.
On the fifteenth day of March the scouts set out with fun and talk.
On the fifty mile endurance hike they call the Four Inns Walk.
They were only dressed for a ramble when a blizzard crossed their skies.
Michael Welby, John Butterfield and Gordon Withers lost their lives.
For its many a mile from Glossop to the stream at Doctor'Gate
And the snow was falling thickly as the scouts they came up late.
They were not dressed for a blizzard and the snow it numbed their bones.
It would be the last time that these lads would ever see their homes.
Written at The Castle Folk Club, Oldham Street, Manchester, by; John Pluckman and friends.