Reliant Robins raise £4,200
On the 6th May two Reliant Robins left Chinley on a sponsored run to John O'Groats raising money for Derbyshire, Leicestershire & Rutland Air-ambulance and Buxton Mountain Rescue Team.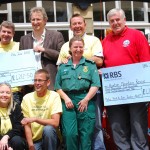 Magnificent local sponsorship from both the public and private companies raised an amazing £8,400. This is to be shared between the two charities. Peter Corbett, event organiser, was able to proudly present the cheques at the annual Emergency Services Day .
It took just ten hours to complete the trip to John O'Groats but took months of organising and fundraising to make the event such a success.  Buxton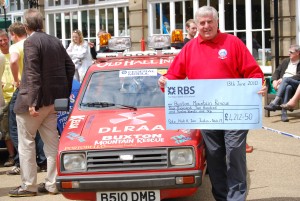 Mountain Rescue sends a truely big thank-you to Peter and all his friends for their magnificent contribution to the team.  A donation of over £4,000 is a major boost to the small charity and will help the team volunteers to carry on their rescue work in the Peak District.
This is another example of the amazing support that local people offer the rescue team which doesn't just provide much needed financial help but also boosts the morale of its volunteers.  Knowing that the public will go to such lengths to help keep the service operational and free of charge to all those it helps is a immense bonus.
Photos:  1. Peter Corbett, (kneeling in yellow shirt) and his group of friends with Andrew Bingham MP, representatives of Air-ambulance, and BMRT.   2. BMRT Chairman, Ian Hurst, along side the Robin which made John O'Groats in just ten hours.