Pharmacist reveals fifty year drug fix
Cedric's Chemist, at 67, London Road, Alderley Edge, Cheshire, has generously agreed to provide free of charge the expensive pain re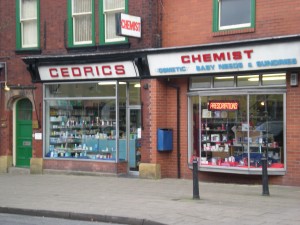 lieving drugs and dressings carried by the Buxton Mountain Rescue Team doctors for use at accidents on the hill.  
Pharmacist, Jack Yeramian, said he was pleased to be able to support mountain rescue which he believes does a fantastic job. 
This kind and benevolent gesture is really appreciated by the team which would otherwise have to pay for the supply.  More to the point is that his help will unwittingly be appreciated by many of the casualties the team will deal with later this year.
The generosity of Jack set us looking at the history books and we found that 2009 is a special anniversary in the annals of mountain rescue casualty care.  On 30th March, Easter Monday, 1959 a fifteen year old schoolgirl became part of Peak District mountain rescue history when she was administered morphia following an accident in Grindsbrook,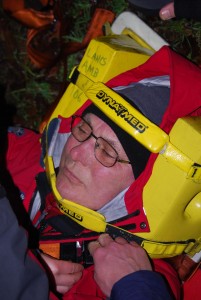 Edale. She was the first recorded mountain rescue casualty in the region to be given the pain relieving drug.  Morphia was used again later the same day, again in Grindsbrook, following an accident to a young schoolboy.  Both casualties were treated by Dr Wilkinson, the Edale village doctor, before they were carried by the newly formed Peak Park Volunteer Wardens Search and Rescue Team down to Edale village.
Fifty years on and morphine and other analgesics are in regular use by all the rescue teams in the country. It was the dedicated efforts of Mr Wilson Hey of Fernilee near Buxton that in 1949 secured the right for drugs to be used in mountain rescue.  The full story of Wilson Heys fight with the authorities to get morphia a
available to mountain rescue is revealed in the book, "Mountain Rescue, History and Development in the Peak District" available through this website.
In April this year our colleagues in Edale MRT are holding a training  weekend for advanced mountain rescue first aiders and casualty carers.  The course is open to all teams in the country and will no doubt cover the use of analgesics and other drugs.  An appropriate celebration of the development of medical techniques being held just a mile or so from where the use of morphia for hill accidents was pioneered fifty years ago.
The legal right to administer drugs is a privilege that is greatly respected by mountain rescue team members.  Security is paramount and no drugs are stored at rescue team bases or on rescue team vehicles.
Photos:  Top: Cedric's Chemist, London Road, Alderley Edge.    Middle: Casualty care including pain management is a top priority in modern mountain rescue.    Bottom:  Wilson Hey, President of the Rucksack Club and President of Manchester Medical Society.