One man and his search dog retire
After 31 years in mountain rescue, Malc Bowyer who lives in Buxworth is hanging up his operational boots.   Malc joined the Buxton Team in 1979, he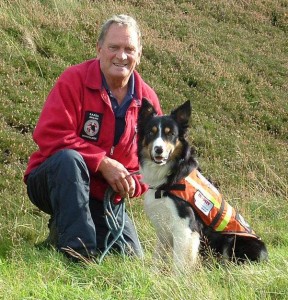 served as the teams equipment officer for some years, before acquiring his first search and rescue dog Glyn.   Both he and Glyn were graded by the Search and Rescue Dog Association in 1991 and became a fully operational search dog and handler.   Malc then was being called to missing people searches not just in the Peak District but elsewhere in mainland UK, including the Lockerbie disaster.  
Malc continued his involvement with search dogs, grading his second dog Trigg in 2001 and then in 2008 Cap became his third and present dog.   He was also the Search and Rescue Dog Associations Area Co-ordinator for the Peak District for some 5 years. 
Malc's invaluable service to the Buxton Mountain Rescue Team was recognised recently at the teams annual general meeting when he was awarded "Honorary Membership" for his outstanding service to mountain rescue, by his colleagues. 
Malc said " I have attended hundreds of incidents all over England and Wales throughout my 31 years service.   Although now retiring from operations, I intend to continue with the training of search dogs in the Peak District, passing on my knowledge and experience gained in order to ensure the high standards which have already been achieved are maintained for the benefit of those we are called to assist.   I have enjoyed over 30 years in mountain rescue, worked with some fantastic colleagues, and last but not least had the privilege of training and working with 3 wonderful search and rescue dogs, which are part of my family".