New members in and up
Three new members joined in regular team training for the first time last Thursday night.   The team welcomed Yolanda Blane, Paul Spedding and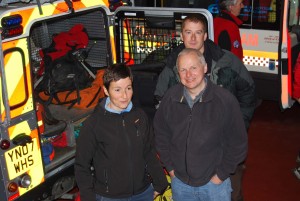 Andy Keen at the start of their provisional member training programme which will probably take at least twelve months before they achieve full operational member status. 
Joining the team starts with a piratical assessment of navigation skills on Brown Knoll during which the applicants personal equipment and general hillcraft ability will be appraised.   Having successfully cleared that hurdle new applicants are welcomed as provisonal members and start a programme of training to ensure they have a good basic understanding mountain rescue and are able to make their own risk assesment of a situation.   When they have demonstrated a resonable degree of knowledge and a safe and sensible approach to situations applicants progress to the operational call-out list where their aptitude and skills are continually assessed.  It may be another six months or more before their final induction interview which should see them adopted as full members.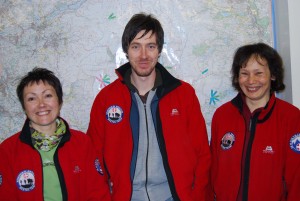 Three members who have just completed all their basic training are Sara Ledbury, Kel Dyson and Kathryn Johnson.   All were recently confirmed as full operational members and are now being measured for their coveted red jackets!
New members always welcome; contact enquiries@buxtonmrt.org.uk