Lions trump up for Nellie the Elephant

It may not be a well known fact but singing "Nellie the elephant packed her trunk …." whilst carrying out life-saving resuscitation actually helps with rhythm and timing. 
It's a technique championed by team doctor, Vicki Gilmore, wh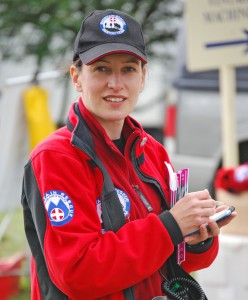 o regularly teaches cardiopulmonary resuscitation (CPR) to team members as part of their first aid training.  Singing helps control the rate of chest compressions given to a patient and repeating the first line of the song counts 30 beats at the necessary rate of 100 per minute.
A short time ago Dr Vicki, with team member, Peter Parker, were giving a demonstration and talk about mountain rescue to a group from Macclesfield & District Lions Club.  Peter unpacked resusci-anne from her TRUNK and Vicki started with a demonstration of  resuscitation.  Vicki is convinced that it was her rendition of Nellie the Elephant that convinced the group to make a sizable contribution to team funds.  (We think it was probably to stop her singing but ……….)
Whatever the deciding factor, Macclesfield & District Lions Club has trumped-up generously to the tune of £500 for the rescue team.  It's a great donation which will be put towards the cost of protective clothing and equipment for the new operational members recruited over the summer.  The team sends a huge "Thank You" to the members of the Lions Club for their support and we apologise for any broken wine glasses.
P.S.  If you ever have to carry out CPR on an unconscious casualty, it's probably best not to sing aloud – or it may be you they take away in the ambulance!
Photo:  Dr Vicki – concert tickets available!