Ladies give a helping hand
Thanks to the magnificent efforts of the ladies of Alderley Edge Methodist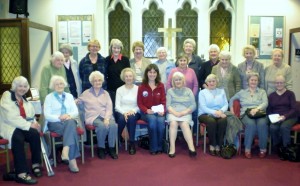 Church, Buxton Mountain Rescue Team is now able to go ahead with the purchase of new protective clothing for its latest recruits.
 The ladies' Thursday Group invited local G.P., Dr Vicki Gilmore, to give a talk about the work of the rescue team last year and ever since then, the group has been working hard to raise money for the team.  A coffee morning, a concert and another special event all helped to contribute to the grand total of over £480.  Dr Vicki, a member of the rescue team herself, paid another visit to Alderley Edge Methodist Church last Thursday evening where the ladies presented the cheque. 
 Dr Vicki thanked the ladies for their generosity explaining that the rescue team is run entirely by volunteers and is totally dependent on charitable contributions.  The team has responded to over 100 incidents this year and the pressure of the work has meant the team had to recruit more operational members.  It costs over £500 to clothe and equip each member so the generous donation is already earmarked to buy jackets and First Aid kits.
 The rescue team sends a big thank-you to the ladies of the Thursday Group and to all who supported their fundraising efforts.  Without such help the team simply can not carry on with its work.