Ladies' Circle increase pulse rate
For the last twelve months Buxton Ladies Circle has been working hard to raise funds for two local charities, Charis House, a family support centre in Buxton and, Buxton Mountain Rescue Team.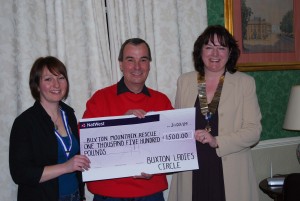 The Ladies Circle tried some unusual and varied events to raise money including a sponsored sleep over in the haunted Pooles Cavern and running a barbecue at the town's firework display.   The ladies certainly had the Midas touch and managed to raise a fantastic total of £3,000.   At a short presentation following the Circle's Annual General Meeting at the Old Hall Hotel, Chairlady Susanne Howe handed each charity a cheque for £1,500.   Receiving the donation on behalf of the rescue team was Treasurer Roger Bennett who thanked the ladies for all their hard work and making such a generous donation possible.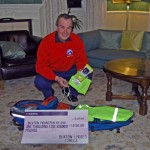 He explained that the money was already earmarked to provide three new "pulse oximeters" which are used to monitor a casualty's pulse and oxygen saturation levels.   The total cost of the units will be over £1,800 but will provide much improved and reliable information for the team first aiders treating the casualty.  The new units should be operational by the end of April. 
photos:  Chairlady, Susanne Howe and Vice Chairlady, Nichola Mason presenting the donation to Roger Bennett.   bottom, Roger demonstrates the old and soon to be redundant Pulse Oximeters.