It's brill out there – but take care!
It's the first real winter that the Peak District has seen for ma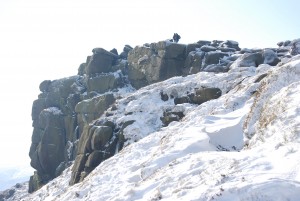 ny years.  On the moors the night time temperatures have rarely been much above freezing since Christmas.  Snow covers most of the area with a considerable depth in the gullies and groughs of Kinder and Bleaklow.   There has even been some sunshine in which to enjoy the conditions and the weekend saw hundreds of people make for the tops.  That included many rescue team members who wanted to make the most of the rare ice build-up on the frozen waterfalls and stretch their legs in the brilliant reflective light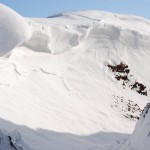 on the plateaus. 
However, whilst we encourage everyone to get out there and enjoy the conditions the team urges everyone to take care and remember a few basic rules.   The snow on the popular paths leading onto the plateaus has been  compacted by hundreds of feet and is now very slippy.   Much of the paved footpath on the moor edges is covered in sheet-ice.   It goes dark very early and the temperature plummets as soon as the sun dips over the horizon.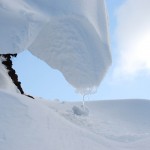 Walking in deep snow is very tiring, – don't under estimate your route.  Crampons and walking poles are recommended for everyone and ice axes for those heading for the gullies.  Map, compass, torch and spare clothing is absolutely essential for everyone. 
Know your ice and snow – not all the ice is suitable for climbing and remember the Peak District is not immune from avalanche. Fresh snow is forecast for Sunday night!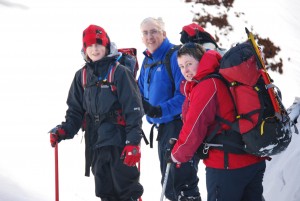 Enjoy the hills and the weather but a few precautions and a bit of pre-planning will ensure you spend the night in your own bed and not a hospital bed. 
Have Fun…………… Take care …………..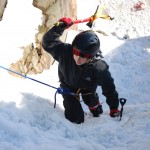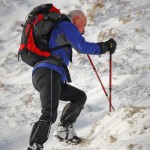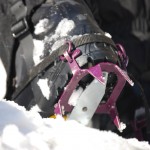 Photos:  Ice plastered Crowden Towers.   Snow cornices in the groughs.   A well equipped party prepared for anything.   Young Tom Hennell (soon to be a famous mountaineer) tackles his first ice climb.   Crampons and walking poles make life so much easier and safer.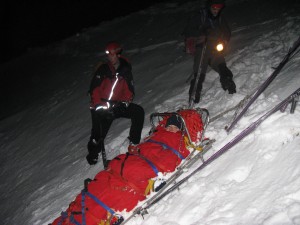 Your bed or hospital bed ???