Happy New Year from the Team
The Trustees and Members of Buxton Mountain Rescue Team wish all its supporters and helpers a Very Happy and Peaceful New Year.
2008 was a very busy year with the team being called-out over eighty times and even on Christmas Day.  The team dog handlers were busy too recording an additional fourteen call-outs in support of other teams or regions.
Mountain rescue is always multi agency task and every Buxton Team call-out will involve some of our full time colleagues in the Police, Fire, Ambulance, RAF, National Park or Warden Services.   Unseen faces also help by receiving the calls through the 999 system, staffing the radio-pager bureaus used to call out the team, and running the team's internal call-out system.  Often a call-out needs a joint rescue team response involving the volunta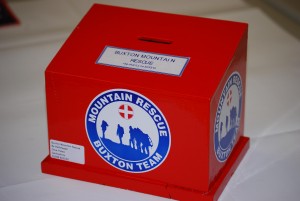 ry members of Edale MRT, Kinder MRT or any of the seven teams in the Peak District Mountain Rescue Organisation and sometimes even our voluntary colleagues in the Derbyshire Cave Rescue Organisation.   With a lot of help, Buxton Mountain Rescue Team has found, helped, treated or assisted around 100 people this year but none of it could have been achieved without the help of the hundreds of people who have donated money, time, goods or skills.  It is the supporters who give the team its lifeblood of cash to buy the equipment, the vehicles and the diesel to run them who really save the lives.  In 2008 running the team cost over £48,000 including the purchase of a new vehicle.  The team has no central or national funding so without the donated money we simply could not continue to operate.  We therefore want to extend our sincere thanks to beyond those who have helped carry the stretchers or staffed the incident control desks and ensure we include every single person that has dropped a few pence into one of our red buckets or boxes.  The money to run the team through 2009 is already safely stored in the bank but we now need to start thinking about 2010!  In the present finacial climate it is going to be a tough task and we call on all our friends and suporters to help out.
Happy New Year to Everyone and may you have a safe year on the hills and crags of the Peak District; and keep an eye out for the little red boxes!