Fundraising friends: 2
Not one, but two supporters doing the Great North Run on 5th Oct. We'll be cheering for both Angela Garton from Woore near Crewe and Bruce Taylor from Taddington (see comment on previous post). Any more of you out there?
Here is Angela, de-mystified…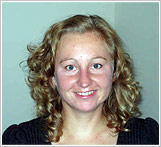 "Maybe I should tell you a bit more about myself. I'm 29, work for the RSPCA in wildlife rehabilitation and in my spare time I enjoy running, jetskiing, rock climbing, playing the piano, ballroom dancing, to name a few hobbies! I have run several local 10K races but this will be my 2nd Great North Run.
Yesterday's training run went very well, I finished the 13.1 miles in 1 hour 54 minutes, so hopefully I'll be able to come in under 2 hours on race day.
My race number is 15441 so look out for me on tv!
Angie"