Eggcellent result
We have often marvelled at the lengths some people will go to to raise money for the team and a lady at a farm in Wincle, Cheshire joins the list of people with the most original ideas.   The lady witnessed the team in action last year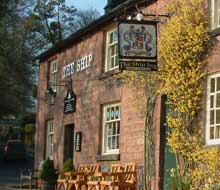 when it was called to a casualty down by the River Dane. Since then she has been selling fresh eggs at the Ship Inn in the village.  As a result she has been able to donate £100 to the team from the proceeds. 
Yet another fantastic demonstration of the support in the community for the work the team does.   Thank you – now the team can shell out on some more equipment! 
Photo:  The Ship Inn at Dane Bridge, Wincle.  Famous for fine beer and good food and now for cracking eggs!  Try them.