Couple say, "I do." and then ask their guests to do it as well!
Late in the afternoon of Sunday 25th November 2007, the volunteers of Buxton Mountain Rescue Team were called to a narrow steep track in Cumberland Clough which runs from near the Cat and Fiddle at Buxton down into Wildboar Clough. A mountain biker had crashed whilst descending the track and had impaled himself on the cycle. A Cheshire ambulance crew and rescue team first-aiders treated the casualty, Mike Whiteside from Sheffield, on site before he was carefully carried by stretcher to Clough House Farm where he was transferred to an air-ambulance.
That evening Mike Whiteside underwent emergency surgery in hospital but amazingly no major organ was found to have been damaged and, apart from a great deal of soreness and a scar, Mike was soon on the mend.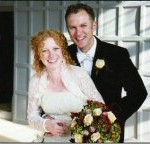 Mike and his partner of ten years, Cariad Evans, were already planning their marriage and decided that, instead of receiving the traditional wedding day gifts, the couple would ask their guests to make a donation to the rescue team.
Their marriage took place in sunshine at Bolsover Castle on Saturday 20th September. By that time the family and guests had donated a total of nearly £2,000 to the rescue team which, when tax is reclaimed by GiftAid, means the team will benefit by nearly £2,500.
Roger Bennett, Treasurer of the rescue team said, "This was a fantastic selfless gesture to make which has really helped the team. The guests were most generous and we want to publicly thank them all. It is only with such help that rescue teams can continue to operate. The team wont be buying toasters and food-mixers, we will probably spend the money on updating some of our casualty care equipment. All the team wish Cariad and Mike Whiteside a long and happy life together."
Mike Whiteside from Bowood Road in Sheffield said, "I often thought about getting involved with mountain rescue but I just couldn't give up the time. The work these guys do is so important and all for nothing too. After getting involved at the sharp end we really wanted to help."