Community Rescue Centre takes shape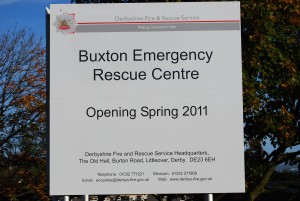 Buxton's biggest meccano set is slowly revealing a new fire station and new bases for both Derbyshire Cave Rescue and Buxton Mountain Rescue teams.
Situated on Staden Lane just opposite Focus DIY, the new building is taking shape and the areas for the cave and mountain rescue teams are now recognisable.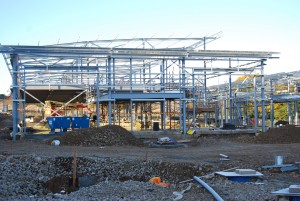 The new facilities at the fire station site will be an enhancement to team's existing capabilities.It will provide the potential for garaging a response vehicle when there is an operational need. Working from the new Staden Lane site will also improve communication and training opportunities with the fire service and cave rescue.  Buxton Mountain Rescue Team will continue to use Dove Holes as its main headquarters for operations and administration but will soon have the flexibility to maintain rescue equipment in Buxton when winter weather threatens to close roads. 
The new facilities are schedueled to open in June 2011 but there is still a great deal of work to be done before the grand opening day.
Photos taken just before the December snows slowed building progress.