Cap that !!
The team welcomed its newest Full Operational Member on Sunday 5th October when Search Dog Cap passed the final tough test set in appalling weather by The Search & Rescue Dog Association in the Brecon Beacons, South Wales.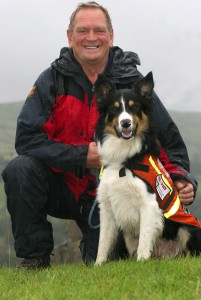 Cap's handler, Malcolm Bowyer, has been a Buxton team member for 30 years and a S.A.R.D.A. handler, instructor and assessor for 20 years.  In that time he has trained three search dogs and has been called to hundreds of rescues all over the Country.   Malcolm proudly said, "This latest assessment involved searching five difficult areas of mountain terrain with each having to be completed within two hours.  The test was assessed by internal and external judges so the standard is always very high."
Cap is a two year old Border Collie with all the necessary energy to quickly search the widest of mountain areas.  It has taken Malcolm two years to train Cap to this standard but now both dog and handler are fully qualified and can be called out at any time.
            Photograph courtesy of Buxton Advertiser.