Buxton Team Member Wins London Marathon
This could be the headline in the national newspapers when Buxton Mountain Rescue team member Phil Leigh sprints across the finishing line on 26th April 2009, having completed the gruelling 26 m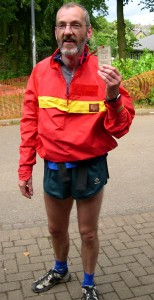 ile London Marathon.  Phil has been waiting five years for a place on the starting grid alongside the other 46,499 competitors for the London Marathon trophy.  This year he has been successfully chosen from the 80,500 entries and holds one of just two places offered to Buxton Athletic Club. 
Phil now has to concentrate on his training campaign which starts this Sunday with the Christmas Cracker Fell Race across the Roaches in Staffordshire.  Phil has nominated us as his chosen charity for which to raise funds so it's now our job to make sure we give him all the help and support possible.
To sponsor Phil go to: http//www.justgiving.com/buxtonmountainrescuelondonmarathon  
Of course the alternative newspaper headline could read, "St John Ambulance treats 1,000,000 people having fainted at the site of Phil's knobbly knees!"
Right: Phil with his finishing tag at the end of the 2005 Otter 40 Mile Race.