Buxton May Day Spring Fair
The May Day street fair held all over Buxton on Bank Holiday Monday was a terrific success as the sun came from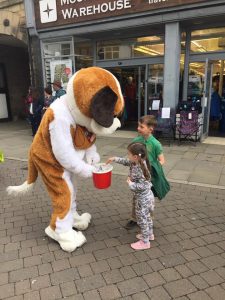 behind the clouds.
A grey and rather drizzly start to the day threatened to dampen enthusiasm but, just before lunchtime, the sun came out and so did the crowds.  The fair, now a regular annual event in Buxton on May Day, takes over the whole town with market stalls, street music, Morris-men and dancers performing from the top of the town and down the main street.  Nearly every charity in the town had a stall somewhere and thousands of people came out to support the event.
Buxton Mountain Rescue Team had a vehicle on display and team members were chatting the public and explaining what mountain rescue does.  Bernard, the team's very own mascot, was also there entertaining young and old alike.
A special visitor was a very young lady from Buxton who, as a baby in April 2012, fell down stairs at her home.  The weather conditions were so bad that the ambulance couldn't get through the snow and so the team was called to take her and a paramedic to Stepping Hill.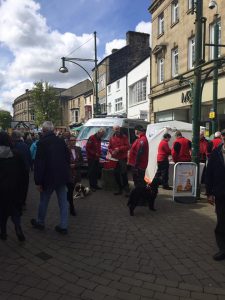 Unlike other years, this was a call-out free day so members were able to stay for the full duration of the event and it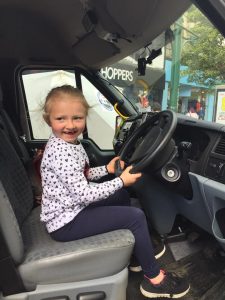 really paid dividends.  The magnificent people of Buxton again showed great support of their local rescue team and dug deep into pockets to give generously.  A grand total of over £600 was raised in cash donations.
The team sends a huge
"Thank You" to everyone

who made a contribution.  Without your help the team cannot carry on its work.   THANK YOU.

Photo credit: BMRT.   Top Bernard makes new friends.     Special photo:  The last time this young lady was in the team vehicle she was in the back and not feeling too well.  Now she sees what it's like to sit in the drivers seat.