Burbage Band to raise some brass
The High Peak Suite at the Palace Hotel in Buxton is the venue for a very special concert on Friday 2nd October.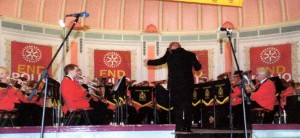 The award winning Burbage Band (Buxton) is generously organising a special charity concert in aid of three local rescue charities, Derbyshire Cave Rescue Organisation, the Derbyshire, Leicestershire & Rutland Air-ambulance and Buxton Mountain Rescue Team. 
The High Peak Suite will be set out in cafe style with tables for groups of ten and it promises to be a memorable evening at a very reasonable price.  A table for ten can be booked for just £60.  That's just £6 each for an entertaining and worthwhile night out. 
Group bookings and individual tickets are available by emailing; jackie132@sky.com
Please come along for a relaxed and enjoyable night of local brass music in aid or three local worthy causes.  The proportion of money raised from this event going to Buxton Mountain Rescue Team will be ring-fenced to help fund the purchase of new operational hand-held radios later in the year.
Photo contributed: Burbage Band in concert recently at Buxton's Pavilion Gardens for Rotary International.