Bollington Brewery Three Peaks Race
Last Sunday, 7th May, the Bollington Brewery Three Peaks fell race ran once again.  Not to be confused with the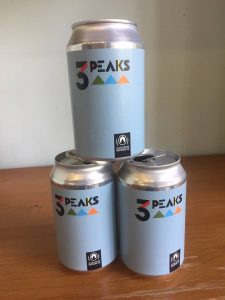 National Three Peaks Challenge which takes in the highest point of the three home nations, this one is a little shorter and the hills a little smaller.  However, set over 5.7 miles of rough and steep terrain, runners face a 1,200 ft ascent traversing Kerridge Hill, White Nancy and Nab Hill, this is still a significant challenge especially if you want to beat this year's winning time of 38 minutes 15 seconds.
The race is organised by an ex Buxton team member and sponsored by Bollington Brewery.  Officially its the only fell race in the country to start and finish at a brewery, the race sees seasoned fell runners compete alongside relative novices.
In previous years the team has benefited from a donation from the proceeds and to say "Thank You" a few team members willingly volunteered to help out on the day (absolutely nothing to do with the race starting at a brewery!).
It was a warm day for running but all competitors returned safely and without significant injury.