BAFTA nomination for team member?
Lights, camera, WOOF!  Never work with children and animals, is what they say, but team member Dave Mason thinks that's all wrong.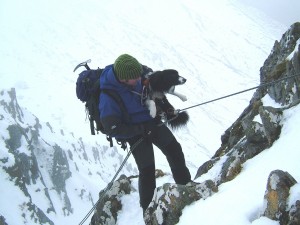 As a Search and Rescue Dog Association handler Dave thinks working with animals is great – or at least one very special animal, a border collie named Megan.  As reported in an article on this site on 19th Jan, Dave and Megan qualified as a "Full Search Dog" unit after a gruelling three days of tests and assessment at Derwentwater in the Lake District.   This was the culmination of years of training for Dave and 4 year old Megan. Their achievement came to the attention of the BBC which sent a film crew to seek out the talented duo around Matlock.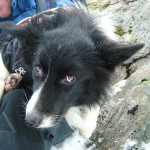 Watch Dave and Megan in action.  Dave said later "Megan is a natural star but she spent hours in make-up!".   Dave, now nick-named Oscar, was last seen making space on the mantelpiece .
Photos:  Top – Megan gives Dave a helping hand down a steep Scottish crag during a training exercise. Lower – A little more eye-liner please?