Across the width of Britain
Mel and Mike Cartwright, residents of Buxton, decided they wanted to do a sponsored walk to support their local Mountain Rescue team – us. We're very pleased to report that they succeeded in this, completing the physical challenge in just over 2 weeks last month. We're equally happy about the success of their fund-raising efforts which currently stands at £1,600 – with more to come.
Mike kindly wrote up a brief account of the walk, and sent us these photo's.
Mel and I picked up a pebble each on the beach at St Bees near Whitehaven on the Irish Sea and set off on our Coast to Coast walk on Wednesday 29th June.  We were lucky that the start of our adventure coincided with British Summertime, which as you all know, took place from 28th June all the way through to 4th July.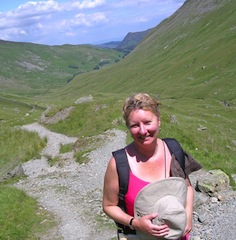 The Coast to Coast walk takes you 190 miles (and more) across the width of Britain, passing through some of the loveliest countryside we have – but it is a hard walk. If you add together the ascents, they total more than the height of Everest.  We heard many stories along the way from other walkers and guest house owners about people who had to give up their journey, some when they were heart-breakingly close to the finish. Although we did finish the walk, it wasn't without incident which put us temporarily in mind to discontinue, too. On the very first day of the walk Mel was bitten by a 'clegg' (horsefly). Her hand swelled up over the next day and by day 3, she was in a lot of pain and feeling distinctly grotty.  The bite had become infected. Luckily, antibiotics were obtained, which improved the situation, and so we were able to carry on.
 
The 4 days through Cumbria and the Lake District were perhaps the most challenging part of the walk. It involved numerous ascents and descents on sometimes very difficult terrain.  The wonderful weather however, meant that the views from the summits were absolutely glorious, which made the climbs very worthwhile, as I hope you can see from the photos below. One highlight was the Nine Standards Rigg, which stand on a rugged peak in the Pennines near Kirkby Stephen.  The purpose of these mysterious ancient structures is unknown, but they are enigmatic and frequently lost in low cloud and pouring rain – as indeed they were on the day we visited.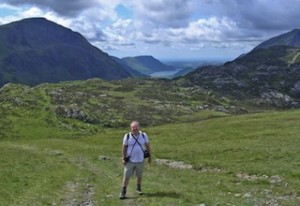 By mid-July, just over two weeks later, we arrived at Robin Hoods Bay, the finish. We threw the pebbles that we had carried from St Bees on the Irish Sea out into the North Sea, wet our boots, and headed into Wainwright's bar to celebrate!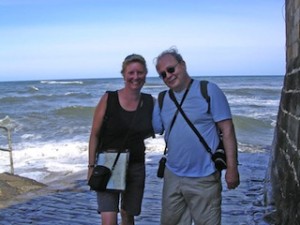 Well done! We're sure you both deserved every drop. Mel & Mike are still collecting. If you would like to contribute, here is the link.