A refreshing walk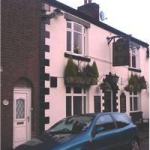 It's not everyday a Mountain Rescue Team attracts a donation of over £1000. Luckily for us in Buxton, there are plenty of pubs and no shortage of people willing to walk a scenic route between them – not just for themselves, but in order to support local charities.
It may be easy to miss a small small pub located in a village near Macclesfield, but not the substantial donation they raised and gave the team recently. Richard, the landlord of the St. Dunstan Inn, Langley, coordinates with 10 other pubs in the vicinity to plot a 15 mile circular route with pit-stops. The honorable hostelries involved include: Leather Smithy, the Stanley Arms, the Crag Inn, the Wild Boar, the Hanging Gate, the Ryles Arms, the Lamb Inn, Sutton Hall, the Kings Head, Chard House, and of course, St. Dunstan's Inn.
Richard himself can't understand why anyone walks(!) although he knows the local scenery is tops. The St.Dunstan's Inn does not normally offer food, but Richard breaks the rule on occasion and puts himself out to ensure there is plenty of good grub and liquid refreshment. He knows that being well-fed and watered is a big attraction.
The Langley 11 is in fact run twice a year, to support different charities. The event is so popular that participation is by ticket only. People travel from as far as Liverpool and even further, 'down south'. Whole families get involved so people of all ages take part. If you fancy geting involved in a future one (next one is 10th Sept 2011), or even wish to replicate the Langley 11 walking route, please feel free to contact Richard by phone in the evenings (after 5pm).
Buxton Mountain Rescue Team says 'Cheers' to all the landlords and their patrons for their enthusiasm, energy, generosity and big spirits. We always value donations, whatever their size. At a time when we are developing an extra base in Buxton (jointly shared with other emergency services), each and every contribution is highly appreciated. Thank you very much indeed.