A cut above the rest.
When a new gents hairdressers came to town the owner, Chris Abbott, looked for two charities to help with the opening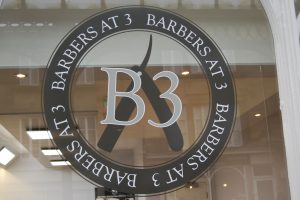 day promotion.
Barbers at 3 is the third shop Chris has opened locally and to celebrate the opening event he decided to donate all the takings from the day to charity splitting the money between Buxton Mountain Rescue Team and Blythe House Hospice.  To add to the donation the shop is running a raffle (£2 a ticket) to be drawn on Christmas Eve with the lucky winner receiving free haircuts for a year.
High Peak Radio was on hand to broadcast live coverage of the event and interview Chris and representatives of both charities.
Buxton Mountain Rescue Team sends a huge THANK YOU to Chris for his generous support.
So, if you are in need of a trim or total restyle get down to 3, The Colonade in Buxton and smarten up in time for Christmas.
Photo credit:  BMRT  – Chris, far left, with his team ready for action.